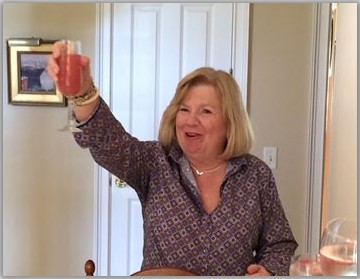 Nancy Strobel
October 13, 1944 - July 8, 2021
President 2004-2005
Nancy Taylor Duffett Strobel died peacefully July 8, 2021 at home in the company of her husband, Gray H. (Tim) Strobel and children Tyler and Tracy; overlooking the Skidaway River marshes, as Tropical Storm Elsa provided the thunderclaps, lightning, wind and rain appropriate to mark Nancy's entrance to Heaven to be with the Lord.
Nancy was born in Akron, Ohio on Friday the 13th, in October of 1944 to Gail Yoder Duffett and William E. Duffett. Nancy's early life was shaped by a love of nature. Nancy and her sister Becky recall with great fondness their father's arrival home from work each day with the aroma of the many flowers he developed as a plant geneticist at Yoder Brothers. Through her decades of life she passed this love for nature and her wonderful artistic talents on through her work and her volunteer service.
Nancy graduated John R. Buchtel High School, then launched into the world to study at Sullins College in Bristol, Virginia, completing an Associate Degree in Liberal Arts. She continued her education and metropolitan life expansion, completing an Associate Degree in Fashion Illustration and Merchandising, at the Fashion Institute of Technology in New York City, New York. She put this education to fine use while working in retail sales and display for Oak Hall Clothiers, and finishing her professional pursuits as the retail manager for the Des Moines Botanical Center. She's blessed the life of many, before and after her retirement through her volunteer service at Our Lady of Confidence Carmelite Monastery – where she received the title Sister of Flowers, the ornate decorations she provided for Christmas celebrations at the club houses in The Landings, and the numerous floral and plant arrangements she created for friends and fundraisers.
Nancy and Tim's love story started in high school, with Nancy a popular majorette while Tim played on the football team. They stood the test of time and distance while Nancy completed her education away from Ohio and were married August 7, 1965. Their 56 years of marriage has been a grand adventure raising Tyler and Tracy, traveling through the U.S. and around the globe, and being phenomenal grandparents to their three grandchildren. Wherever Nancy lived, and wherever she traveled (no matter the reason), Nancy brought her a remarkable ability to bring joy into each room she was in, and to show sincere care to the people in her midst. Since moving to Savannah, she's formed a broad circle of dear friends, sharing Mahjong, Lula's luncheon group, and most recently, Croquet. She was an active member of The Landings Garden Club, The Center Island Committee and coordinated the Causeway Cleanup group. Nancy lived with exuberance, zeal, compassion and faith; of course, combined with a flair for the dramatic. She was an avid story-teller, often of her own life experiences, and sometimes recitals that would keep an audience spellbound. Nancy had a wonderful ability to help people to feel at ease, to share their lives and stories and to experience the highs and lows of life with hope. As her life came to a close, she shared that she would miss the fun that those she loved and knew stayed behind in this world would have in her absence.
Nancy served as President of The Landings Garden Club for the 2004-05 Club year. A

$250.00 donation in the name of Nancy Strobel was sent by the Clubto her charity, Our Lady of Confidence Carmelite Monastery.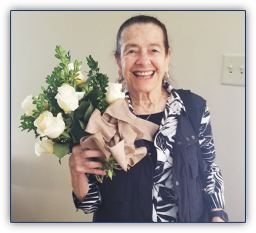 Sandra Wolf
October 20, 1929 - March 19, 2021
Founding Member
We are sad to announce that on March 19, 2021 we had to say goodbye to Sandra Wolf.

Sandra was a loving and generous mother to Karen Greider and Kenneth Wolf, a beloved sister to Joyce Raffel, and a wonderful grandmother to Julia Greider. She adored her son-in-law, Peter Greider, and Ken's partner, Lauren Reddington. Also precious to her were her cousins, niece, and nephews. Sandra worked for many years in New Jersey as a teacher and a learning disabilities specialist. In retirement in Savannah, GA, Sandra enjoyed her treasured friendships, physical activities, social involvements, and years of world travel. She was a longtime and very active member of The Landings Garden Club. She savored the beauty of the natural world around her. Sandra was preceded in death by her husband, Jay Wolf, and her special friend, Charles (Chad) Foster.
Sandra Wolf was a founding member of The Landings Garden Club which started in October of 1986. She was remembered at our Spring Meeting in April by former President and current 1st VP of the Garden Club of Georgia, Lisa Hall.
"I met Sandra 15 years ago in an exercise class. She could do the splits well into her 70's! She was very physically active and was at the Landings Fitness Center every day until the Covid shutdown. She loved people and was very social and always had a smile on her face. My husband said she held court in the fitness center lounge area and knew and greeted most everyone. Sandra loved learning and could help anyone with their iPhone, iPad, or Apple computers. Sandra helped me with the research of our Club's history, which is now on our website, digging through many boxes of files and scrapbooks.
Sandra knew a lot about horticulture and loved to share her knowledge and love of gardening with others. She took the time meet many of the new Club members and continued to participate in horticulture projects and open her garden to Club tours. Dear to her was the UGA

Department of Marine Sciences,

Skidaway Institute of Oceanography. Her late husband was instrumental in starting a nature trail as part of an Eagle Scout Project. The family has continued to support the enlargement of the Jay Wolf Nature Trail through the years. And for her 90th birthday in 2019 and as a tribute to her at her death, donations from friends and family were used to add signage to the Trail and provide for future maintenance."
The Landings Garden Club made a $250
contribution
to the Jay Wolf Nature Trail in her honor.
© Copyright The Landings Garden Club