The first meeting of The Landings Garden Club took place on October 22, 1986 with 27 women in attendance. At that time The Landings consisted of Marshwood, Plantation and Midpoint. Today The Landings has grown to 9,000 homes and added Deer Creek, Oakridge andMoon River Landing. Our Club has grown too, in its over 30 years, to more than 125 members. We are part of the National Garden Club, which is recognized as the largest volunteer gardening organization in the world. Of the original group Joan Ross, Marguerite Weisemann, and Sandra Wolf are still members.
We are proud to announce that in 2018, our projects earned the Club 10 1st Place awards from the Garden Club of Georgia, two 2nd Place awards from the Deep South Region and two 1st Place Awards from the National Garden Clubs, Inc.
Here are some of our Club's many accomplishments over the past 32 years:
Arbor Day observance each February, including a Cathedral Live Oak tree at Moonriver Overlook in 2018 and two Red Maple trees at Sparrow Field in 2019

Renovated and maintain the Serenity Garden at Memorial Hospital's Anderson Cancer Institute

Purchased, planted and maintain several beds at Bethesda Academy

Maintain container gardens at Landings Club facilities

Plantings and maintenance of front garden of the Village Library

Financial support and volunteer labor for The Sparrow Field, a project of Skidaway Audubon

Landscaping of St. Luke's Place, a home for disabled young people in Savannah

Adopt-A-Highway Litter Control on Diamond Causeway

30 Continuous years of contributing gifts, toiletries and clothing for patients at Georgia Regional Hospital

Donations of artwork and Christmas gifts to residents of Central State Hospital

Enhancement of landscaping of Mall Branch of Chatham County Public Library

Wildflower Garden on Diamond Causeway

Planting of oleanders at Pinpoint GA in honor of Clarence Thomas

Annual Support of Area Council Botanical Garden Center on Eisenhower

Holiday Decoration of The Landings Community Gates

Blue Star Memorial Marker installation 2007

Butterfly Garden at Skidaway Island State Park established and funded since 2009

The Nature Trail at The Landings, the club purchased plants, established and identified a beautiful, 2.5 mile native plant trail, winning 1st place in the National Garden Club's 'Conservation Award' and a $1,000 prize.

Planted an American Liberty Elm Tree in honor of 9-11, which is located near Lagoon 58, off Sounding Point Retreat in Oakridge
State Botanical Garden of Athens
Children's Garden at SBC in Athens
Cherokee Garden Library
Founders Memorial Garden
Historic Preservation
Land Trust: Marshall Forest
Natural Disaster Support (GCG)
Roadside Beautification
State Parks & Public Lands
Blue Star Marker Restoration Fund
Garden Therapy Fund
C. Burke Day, Jr. Memorial Fund
Friends of the State Botanical Garden
GCG State Headquarters
Penny Pines (NGC)
Orphaned Bird Care
GCG Scholarship
Skidaway Audubon Society
Safe Shelter-Children's Garden
UGA Marine Ext. - J Wolf Trail Project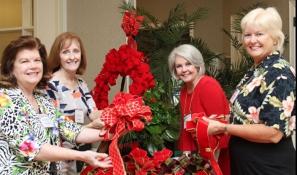 In order to support our many charitable and community projects, the Landings Garden Club sells handmade holiday bows. Our members gather during the summer months to create more than 800 bows in several sizes and colors.
The bows have become a traditional holiday decor in our community. Between November 15th and December 15th, bows are sold at the Skidaway Village and at special island and Club events. Click Here for details about Holiday Bow sale dates and times.
© Copyright The Landings Garden Club