TheSerenity Garden
at the Anderson Cancer Institute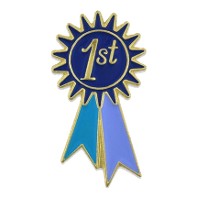 Garden Club of Georgia
2017-2018-2019-2020-2021
National Garden Club - 2018
Deep South Region - 2020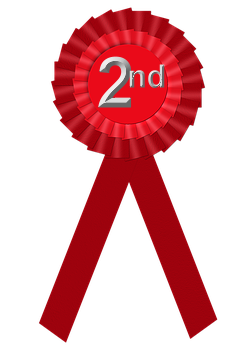 The Serenity Garden is located on the Savannah campus of the Anderson Cancer Institute at the Memorial Health University. This 600 square foot healing garden is visible below the two story interior waiting rooms for the chemotherapy infusion treatment pavilions. It was originally constructed in 2003 as a gift to patients and their families to provide an area for quiet reflection to aid the healing process. The garden once quite lovely, without attention had fallen on neglect and became overgrown.
When the administrator of the Anderson Cancer Institute realized their volunteer, Vicky Kramer was a member of the Landings Garden Club, a plea for her help from the hospital staff was immediate. Vicky enlisted the help of other garden club members to reclaim the garden of and the notion of caring for "Serenity" as a club project was initiated.
Six members of the garden club began the process of renovating the garden by pruning overgrown bamboo, papyrus, Alpenia, and giant philodendron, weeding flower beds, amending the soil with mulch and compost, and removing debris to prepare the area for replanting. Workdays are scheduled bi-monthly, and 24 members known as "Serenity Sisters" rotate in teams of two throughout the year to water, manage the growth of the permanent plant material, and install seasonal plants. The entire committee participates in fall and spring clean-up, and work as needed during seasonal flower change-outs.
In 2017-18 Garden Club members conducted a major rehabilitation of the garden plants after the severe cold weather and snow storm in January. Debris was removed and with expert help from garden club members, the Serenity Garden is back to its glory. In April bird feeders and seed were donated and installed to add the sounds of song birds to the garden for the benefit of the patients and visitors to the Anderson Cancer Institute.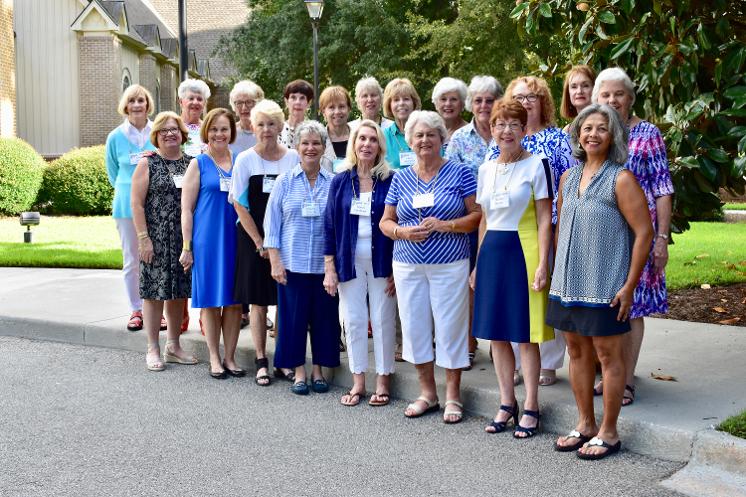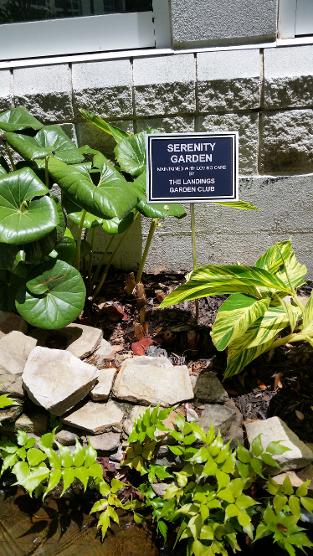 Please enjoy the following video on how the Serenity Garden Project began....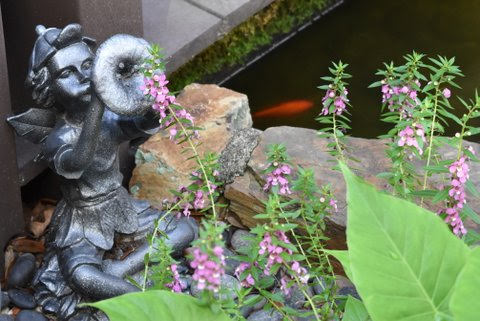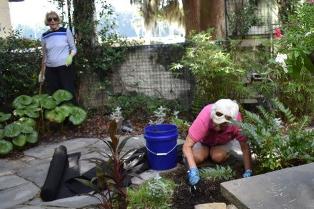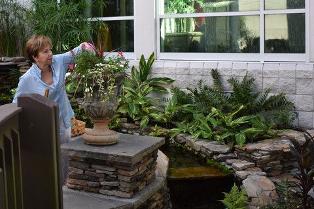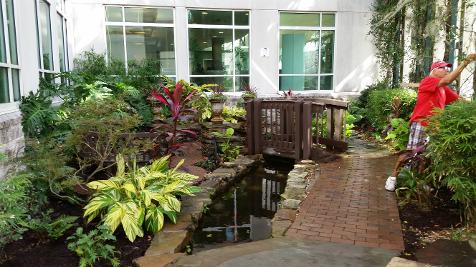 © Copyright The Landings Garden Club