Founded in 1740, Bethesda Academy began as a colonial orphanage. It has the distinction of being the oldest child caring institution in the country and was visited by many of the country's founding fathers, and found one of its earliest supporters in Benjamin Franklin. From its earliest days as an orphanage for 61 children in Georgia, Bethesda has evolved into a successful middle and high school.
In March of 2019, five Garden Club members revitalized the planter beds which surround a sundial memorializing Elizabeth "Miss Lizzie" Johnson. Miss Johnson began as a teacher but felt too restricted in the classroom and therefore moved to work on the farm. Serving Bethesda for 40 years, many of the boys thought of her as a mother-figure. Plants were chosen for their drought tolerance and year around beauty.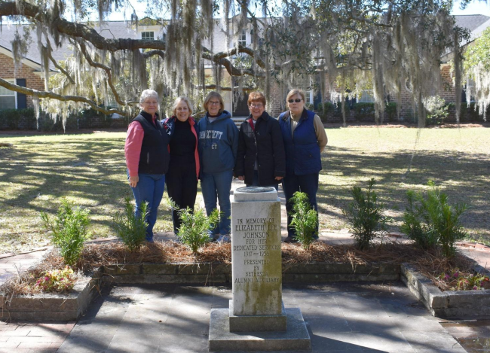 In March of 2018 a group of Landings Garden Club members took post-hole diggers, shovels, rakes, etc. and went to work on two abandoned garden beds at historic Bethesda Academy.
The academy had prepared one area by bringing in top soil to fill in a low spot where rain water collected, so the digging was easy. We installed 36 plants in about two hours and had time to pull weeds and clean up beds in the Courtyard. Later, Zipperer & Co. installed the two six-foot Emerald Green Arbovitae and spread the mulch. Now when visitors enter the circle drive, they are greeted by nice landscaping around the lamp post—a much needed improvement.
Continuing maintenance was also performed to the area around the Whitfield Chapel adding more plants to the beds that had been rehabilitated in the fall of 2017. We all enjoyed sharing the cool morning, doing something worthwhile and making new friends. Time well-spent in a beautiful, peaceful setting.
Pictured workers are Pam Patterson, Angela Devore, Jane Golz, Diane Ingram, Sharon Lundin, Hannah Burtnik, Connie Gescheidt, Pat Wolthers, Joanne Bovey.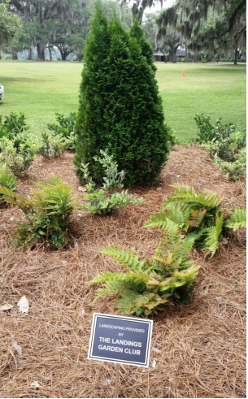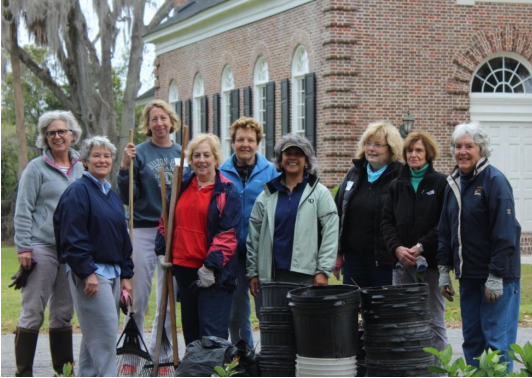 © Copyright The Landings Garden Club