Founded in 1740 by Reverend George Whitefield at the request of Reverend John Wesley, Bethesda Academy began as a colonial orphanage. Whitefield spent much ofhis life speaking to great gatherings in the colonies and in England in order to keep this institution "alive". The campus is located 11 miles from historic downtown Savannah on 650 beautiful acres (500 of which were deeded from the King of England) overlooking the Moon River. Today, the school serves 100 low-income boys in grades 6-12 with 19 students boarding on campus five days per week. The school continues to emphasize good character and leadership as the mission established by Whitefield continues to be Love of God, Love of Learning, Strong Work Ethic. Ninety-Five percent of Bethesda grads continue to higher education.
Bethesda holds a special place in the heart of The Landings community, at large, with residents financially supporting the school but also serving on the Board of Governors, The Women's Board and participating in Barn Builders. Since the school is independent and derives no support from government or non-governmental entities, all funds are devoted to the education of the students.
Effective May 2019, TLGC officially established a Bethesda Academy committee to do ongoing projects. Members met in July for an historic tour and bed maintenance around 2 historic campus buildings. In August members weeded and trimmed the bed around the light post, at the chapel, and Miss Lizzie's Sundial. In September the committee planted annuals for enhanced color during celebrations including weddings in the chapel.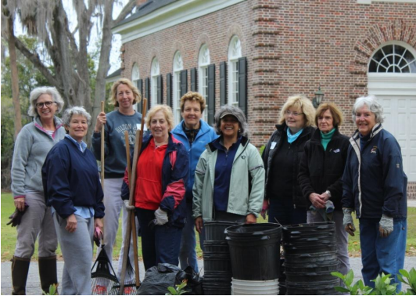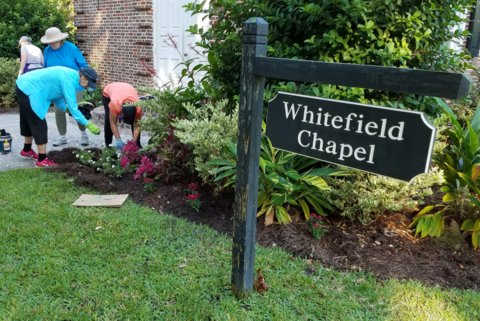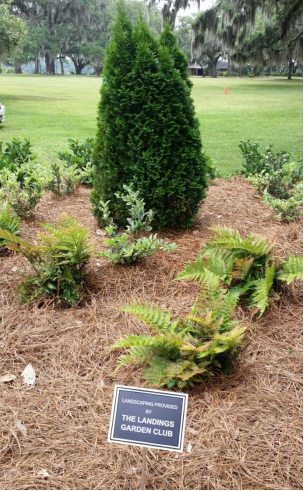 As part of TLGC's "Done-in-a-Day" Project, five TLGC members in March of 2019, revitalized the elevated beds around a sundial. This planter-type memorial dedicated in 1965 to memorialize Elizabeth Johnson was chosen because during Miss Lizzie's 41-year tenure at Bethesda, she worked daily on the gardens and took charge of special events including flower arrangements and decorations. She did all of this while her job was housemother to the youngest boys, sometimes preschoolers. The beds were empty and the sundial was stained—not befitting Miss Lizzie. Members planted 10 Podocarpus and 12 Coleus. In addition, the sundial and bricks were cleaned to get rid of the stain. Later in the spring, we added yellow Shasta Daisies, just in time for Graduation Day!
In March of 2018 a group of Landings Garden Club members took post-hole diggers, shovels, rakes, etc. and went to work on two abandoned garden beds at historic Bethesda Academy.
The academy had prepared one area by bringing in top soil to fill in a low spot where rain water collected, so the digging was easy. We installed 36 plants in about two hours and had time to pull weeds and clean up beds in the Courtyard. Later, Zipperer & Co. installed the two six-foot Emerald Green Arbovitae and spread the mulch. Now when visitors enter the circle drive, they are greeted by nice landscaping around the lamp post—a much needed improvement.
Continuing maintenance was also performed to the area around the Whitfield Chapel adding more plants to the beds that had been rehabilitated in the fall of 2017. We all enjoyed sharing the cool morning, doing something worthwhile and making new friends. Time well-spent in a beautiful, peaceful setting.
Pictured workers are Pam Patterson, Angela Devore, Jane Golz, Diane Ingram, Sharon Lundin, Hannah Burtnik, Connie Gescheidt, Pat Wolthers, Joanne Bovey.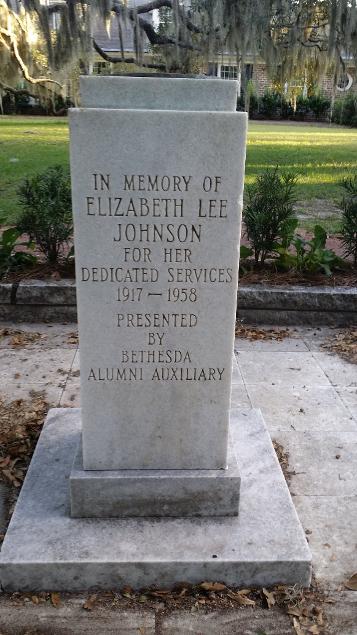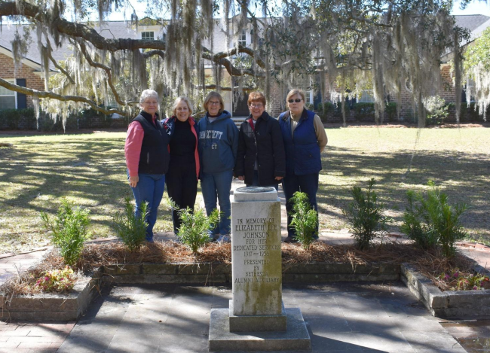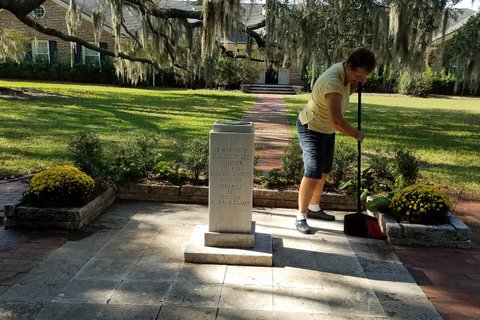 © Copyright The Landings Garden Club